Luxury Line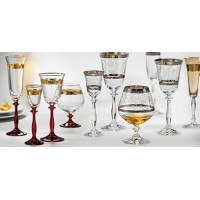 Luxury Line - Exlore truly exclusive and unique art of decoration. Designers deliver true quality of the highest standard and create a decadent look.
Only produced by the most experienced craftsman which is reflected in the intercut detailing.
Indulge in the most exquisite and limited edition crystal glasses. Create magnificent atmosphere at your table for the ultimate dining experience to last forever.
Find your piece of luxury below:
Refine Search