Angela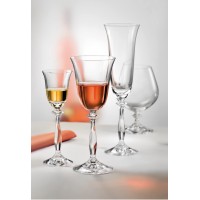 Angela
These elegant crystal glasses will capture your attention by their classically attractive design resembling a bell.
Giving you an uncompromised 'simple beauty'.
The small gem shaped crown on the stem allows for ease of holding.
Let us introduce to you a number of decorated techniques in many forms reflecting high skills of the people who produce them.
Manufacturer: Crystal Glass
Model: 40600 / 190 Plain
Price per set of: 6
Stock Status: In Stock
Product Quantity: -1
Views: 6157
Sales: 9
Date Available: 2012-05-11
Dimensions (L x W x H): 0 x 66 x 220 mm
Requires Shipping: Yes
Manufacturer: Crystal Glass
Model: 40600 / 250 Plain
Stock Status: Instock
Product Quantity: 2
Views: 4870
Sales: 6
Date Available: 2012-05-11
Dimensions (L x W x H): 0 x 86 x 211 mm
Requires Shipping: Yes
Manufacturer: Crystal Glass
Model: 40600 / 350
Stock Status: Instock
Product Quantity: 10
Views: 4076
Sales: 6
Date Available: 2012-05-11
Dimensions (L x W x H): 0 x 93 x 222 mm
Requires Shipping: Yes
£24.45
Boxes in stock 10x
Showing 1 to 3 of 3 (1 Pages)