Bar-Coctaill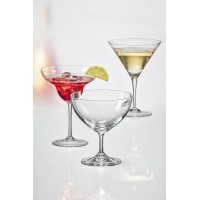 Bar-Cocktail
These crystal glasses have been produced for just one purpose, for the fine art of cocktail making.
Organise a cocktail evening with friends and family, to show off your mixing skills.
The wide body of glass and ripple effect, makes these glasses perfect for cocktails, they can also be used to serve desserts and starters.
Manufacturer: Crystal Glass
Model: 40750/340101/01A
Price per set of: 4
Stock Status: Instock
Product Quantity: 12
Views: 3609
Date Available: 2014-07-26
Dimensions (L x W x H): 0 x 120 x 166 mm
Requires Shipping: Yes
£23.95
Boxes in stock 12x
Showing 1 to 1 of 1 (1 Pages)